11 eyes-罪と罰と贖いの少女 ~ 11 Eyes - tsumitobachi to aganai no shōjo (2009): Manga de acción sobrenatural, shounen ecchi harem, basado en la novela gráfica homónima publicada por Lass lanzada por primera vez el 25 de abril de 2008, comenzó su serialización en el número de Octubre de 2009 de la revista Comp Ace de Kadokawa Shoten, siendo ilustrada por 綾野なおと ~ Ayano Naoto - miembro del círculo Kaikinissyoku (怪奇日蝕) y activo artista doujin, diseñador de personajes y hentai - más de 130 trabajos en estos campos -, pero con obras no H como: Koisuru Otome to Shugo no Tate - The Shield of Aigis, Comp Ace, Kadokawa Shoten - 2008 -.
Género: Acción, drama, ecchi, fantasía, harem, romance, shounen, sobrenatural.
Satsuki

Kakeru perdió a su hermana - ésta se suicidó -, desde entonces ha vivido una vida vacía

y sin motivaciones, hasta que se ve envuelto en un extraño incidente que lo transporta a un mundo extraño y bizarro llamado Noche Roja,

junto con

su amiga

Minase

Yuka

y otros seis

compañeros

.

Para sobrevivir

y

escapar, han de derrotar a seis Caballeros Oscuros que dominan este plano de existencia...
Una adaptación de anime producida por Dogakobo y dirigida por
下田 正美 ~
Shimoda

Masami (Beelzebud, Saber Marionete J, Toradora!, etc.), y con
原 将治
~
Hara Shōji (Hand Mai Maid, Inuyasha, etc.) encargándose del diseño de personajes y como director jefe de animación. Tuvo una gran acogida por parte de la audiencia, emitiéndose en
Chiba TV
,
Sun TV y
TV Saitama (06-10-2009)
, Chukyo TV (07-10-2009)
, Tokyo MX TV
(08-10-2009)
y AT-X
(15-10-2009), respectivamente.
Género: Acción, ecchi, fantasía, harem, MOE, romance.
Después de perder a su hermana hace siete años, Satsuki Kakeru lleva una vida vacía, siendo capaz de regresar a la normalidad sólo con la ayuda de su amiga de la infancia Minase Yuka y otros amigos de la escuela. De repente, un día el cielo se vuelve rojo y la luna negra. Todas las personas que hay alrededor de Kakeru y Yuka desaparecen y empiezan a aparecer monstruos en las calles. Ellos logran huir y esconderse, y después de un tiempo, el mundo vuelve a la normalidad. Pero justo cuando pensaban que este mundo era un sueño, la Noche Roja se produce de nuevo. Kakeru y Yuka logran encontrar cuatro seres humanos implicados en este fenómeno misterioso: Kusakabe Misuzu, Kukuri Tachibana - una chica muda y extraña que se parece a la hermana fallecida de Kakeru -, Hirohara Yukiko - una joven vivaz que tiene doble personalidad: al quitarse sus gafas se transforma en una asesina a sangre fría -) y Takahisa Tajima, un piroquinésico. Para salir de esta situación deberán combatir espíritus malignos llamados "Ralva" y unas sombras que los acosan para destruirles: los Caballeros Negros.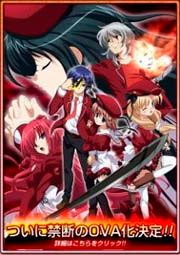 El 25 de junio de 2010 saldría una OVA especial llevada por el equipo de la serie TV. (Picad en la portada para su bajada)

Género: Comedia, ecchi, fantasía, harem, MOE, romance.


En este episodio especial
Kakeru
,
Yuka
y
los
otros terminan
en ¡¡Noche Rosa!! una parodia de Noche Roja bastante más sexy... ¡Y los poderes de ellos también se han vuelto más sexies! ... ¡¡Y los enemigos...!!
Desapercibida, solitaria, cual vaga constancia de un buen trabajo que todos los que lo han visto, coinciden conmigo, en que es un buen manga, y una mejor serie de animación, en vosotros está el resto...
Y como de costumbre lo que pasa desapercibido capta mi atención, podemos decir que no suelo seguir a las masas, aludiendo al título Sakti "siempre habrá un roto para un descosío" XD
Saludos.